Computer Department
Section 1: Curricular Aspects

The syllabus for the courses is designed by the college and is executed with the objective of imparting basic knowledge of computers on the latest versions of Windows operating system, the MS Office package and Internet Applications. All the students of Loreto College are eligible for the compulsory courses. The faculty encourages the students for their all-round development. Apart from regular computer classes, they are encouraged to spend their free time on the computer to learn and practice, under the guidance of the computer teachers. Students are also encouraged to use the computers while seeking information for project work, the college magazine, brochures for the annual drama, matter required for college fest (SAMAGAM), etc. The department also conducts optional training on advanced application packages. Practical examinations are conducted after completion of individual topics. Each teaching class is followed by an exercise covering previous topics. A few surprise tests are also taken. The students are evaluated on the basis of exams after every short course. The students are awarded with certificates according to their merit and also for their efforts. Records of all the department works are maintained from time to time. The contents of the courses syllabuses and the special courses are briefly given below:
- Compulsory courses in Windows XP (operating system), Office 2000 (Application Package), Internet Application.
- Journalism department (Quark Express) and Geography department (GIS) have special course in computer.
A computer society has been set up in 2004-2005 as a part of co-curricular activity. Members of the society organized several events for the college fest, Samagam under the guidance of the staff advisers.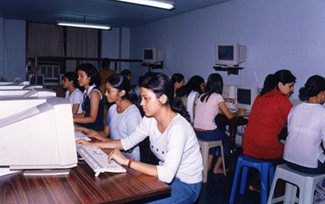 Section 2: Teaching-Learning and Evaluation

All students of Loreto College irrespective of their merit are eligible for the compulsory course of computers. with the goal of helping students to be computer literate and capable of operating computers in day to day life and in their respective fields of work. All the students are given equal importance. Special care is taken for the weaker students by the faculty. Numbers of instructional techniques are adopted like the computers, splitters, scanner, printers' e.t.c. along with free internet usage. Practical examinations are conducted after completion of individual topics. Each teaching class is followed by an exercise covering previous topics. A few surprise tests are also taken. The students are evaluated on the basis of exams after every short course and graded accordingly. The institution gives scope and opportunity to the teachers for further studies. Through the help of questionnaire, the institution gets feedback regarding the satisfaction of the learners. Basic Computer education for teacher trainees (B.Ed) is provided. The computer centre offers additional part time, elective courses to students. Computer centre offers part time courses to faculty.
The infrastructure for the computer department comprises of a very well organised and well-equipped computer room. The center places prime emphasis on infrastructure development and learning resources as essential for creating an excellent academic environment.



A group of students (from Computer Society) is to be involved and responsibilities assigned to promote a sense of belongingness. Free Internet surfing for students and staff. Continuous upgradation of the existing machines and the incorporation of the latest ICT (Information Communication Technology) equipments are done. The Department is equipped with network (LAN) facilities spread across machines for classes, machines for Internet, server and department standalone machine. There are monitors with two splitters for teaching purpose. Separate computers are there for the use of the staffs and the Geography department, which teaches G.I.S to its students.

The department aims at increasing computer literacy in up-to-date courses at nominal fees and has the goal of helping students to be computer literate and capable of operating computers in day to day life and in their respective fields of work. It is self-financing and autonomous. Students should find these courses interesting and helpful. All students of Loreto College are eligible for the compulsory courses. A student feedback mechanism is undertaken for the quality enhancement of the teachers. Records of all the department works as well as of the students are maintained from time to time. Staff advisers of the society help in guiding and assisting the students in times of need. Through the various compulsory and special courses, the students get themselves trained for employment in the future.

The department follows healthy practices. The faculty encourages the students for their all-round development. Apart from regular computer classes, they are encouraged to spend their free time on the computer to learn and practice, under the guidance of the computer teachers. Students are also encouraged to use the computers while seeking information for project work, the college magazine, brochures for the annual drama, matter required for college fest (SAMAGAM), etc. Practical examinations are conducted after completion of individual topics. Each teaching class is followed by an exercise covering previous topics. A few surprise tests are also taken. Certificates are given to the students according to their merit list. Power Point competitions are held to make the subject more interesting for the students.


Faculty:
Ms. Swati Chatterjee M.A., DOEACC 'A' Level (Head of Department)
Ms.Chandrani Sengupta M.C.A., PGCACS